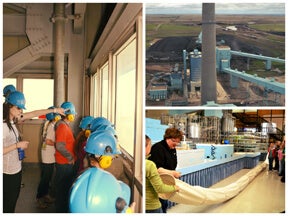 Burke-Divide Electric Cooperative is proud of our commitment to education and the communities we serve.
As part of this commitment, Burke-Divide Electric offers tours of Antelope Valley Station, Freedom Coal Mine, and Great Plains Synfuels Plant to schools and community groups at no cost.
Groups interested in scheduling a tour should contact Heidi Haugen-Grohs, Member Services Manager, at (701) 939-6671 or heidi@bdec.coop.
NOTICE:  Due to COVID-19 restrictions, power plant tours are
NOT
available at this time.